HydroScat-6P Backscattering Sensor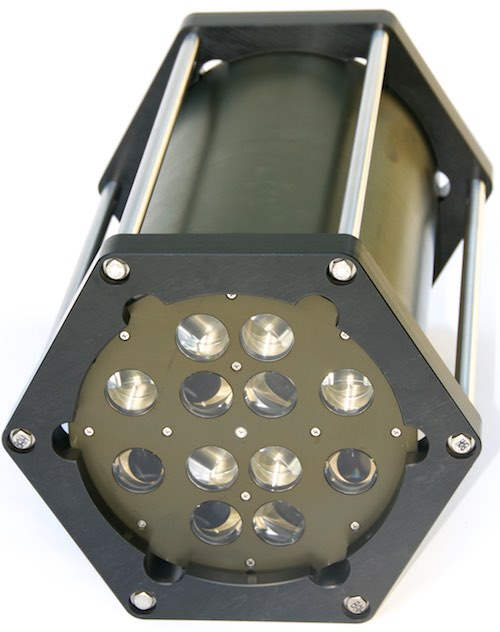 HydroScat-6P with deployment cage (cage can be removed)
The Hobi Instrument Services HydroScat-6P is the most refined version of the workhorse HydroScat design. A fully integrated measurement system with internal rechargeable batteries, data logging, and even a deployment cage. Recent improvements include new "hard-coated" filters for better sensitivity and longer life, standard depth rating of 500 m, lower power consumption, wider supply voltage range, and a corrosion-proof sealing system for easy maintenance.
Features
Outstanding sensitivity: confidently measure the purest natual waters
Reference detectors on every channel for superior stability
Temperature compensation
Rugged construction
500 meter depth rating
Extensive data logging capability
Can be calibrated by users (with optional calibration apparatus)
Specifications
Standard wavelengths: 420, 442, 470, 510, 590, 700 nm (contact us for other wavelength options)
Length including cage: 37 cm
Cage end width: 24 cm across flats
Cylinder diameter: 20.3 cm
Weight: 18.4 kg dry, 5 kg submerged
Maximum depth: 500 m
Operating temperature: 0 to 35 C
External power: 10 to 24 V, 2.5 W operating, < 1 mA sleeping
Internal battery capacity: 60 Whr, sufficient for > 24 hours continuous operation
Internal battery recharging time: 3 hours max
Standard 256k RAM stores 7,000 samples of optical channels and depth
Optional 128M flash stores millions of samples
Maximum sampling rate 10 Hz
Standard Accessories Included
Deployment cage
10-meter power & data interface cable
HydroSoft software
Rugged shipping case with custom foam
Battery charger
Options
Custom wavelengths
Flash memory to hold data even when battery is discharged
For more technical details, see the User's Manual. For a quotation, please contact us.