Packing and Shipping
Before shipping, contact Hobi Services for an RMA number.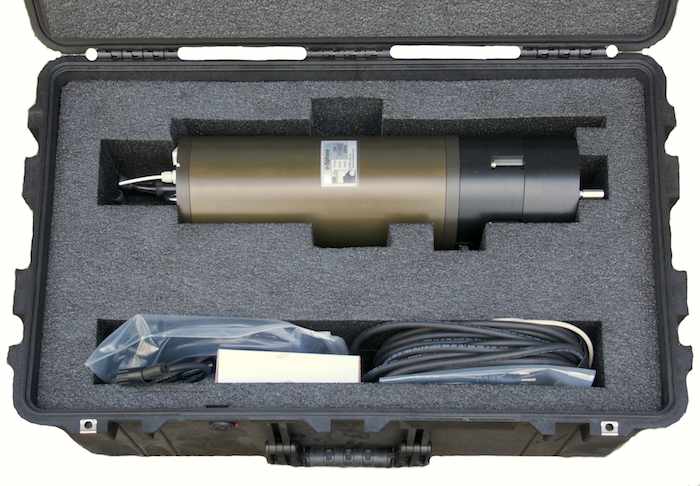 A well-packed a-Sphere
Proper Packing
If possible, pack your equipment in its original shipping case and packing foam. We can provide new foam inserts and cases to replace lost or damaged ones.
Ensure that the equipment is surrounded on all sides by at least 2 inches (5 cm) of foam.
Do not use foam "peanuts" or other loose packing material.
Be especially careful to protect connectors and fittings that protrude from the instrument.
If your instrument is not safely packed, we will charge you for repacking it.
Include the RMA number on the address label.
International Shipping
The customer is responsible for all duties, fees and taxes incurred when sending equipment to us, and when we return it. If you are shipping from outside the USA, specify DDP (deliver duty paid) shipping terms. DDP means your shipper will bill you for all expenses of the shipment. If your shipment arrives with charges due, or if we must hire a US-based customs broker to receive your shipment, we will add the costs, including our administrative labor, to your invoice, and delivery may be delayed.
To ensure your shipment does not incur inappropriate import duties, mark your paperwork with:
HTS Code 9801.00.1012
"US GOODS RETURNED"
Country of origin: USA (not your country)
Also, attach a completed
Foreign Shipper's Declaration of U.S. Goods Returned
.
Declared Value Coverage or Insurance
Shipping companies normally accept very little liability for loss or damage, typically $100. With shippers such as DHL, FedEx and UPS, you can pay a fee to declare a higher value and raise the liability limit. However, this coverage comes with many caveats, and is not legally regulated as "insurance." True insurance is only available from third parties. Consult your institution for their policy regarding insurance of shipments.
When we return your equipment to you, we will ask whether you wish to pay for the carrier's declared value coverage. We do not provide third-party insurance.
Fortunately, the major shipping companies are extremely reliable. The most important protection required for every shipment is careful packing.
Shipping Instruments Containing Batteries
The batteries contained in many HOBI Labs instruments do not require special handling or procedures, but please see internal batteries for more information. HydroBatt battery packs containing Lithium-ion batteries do require special shipping procedures.